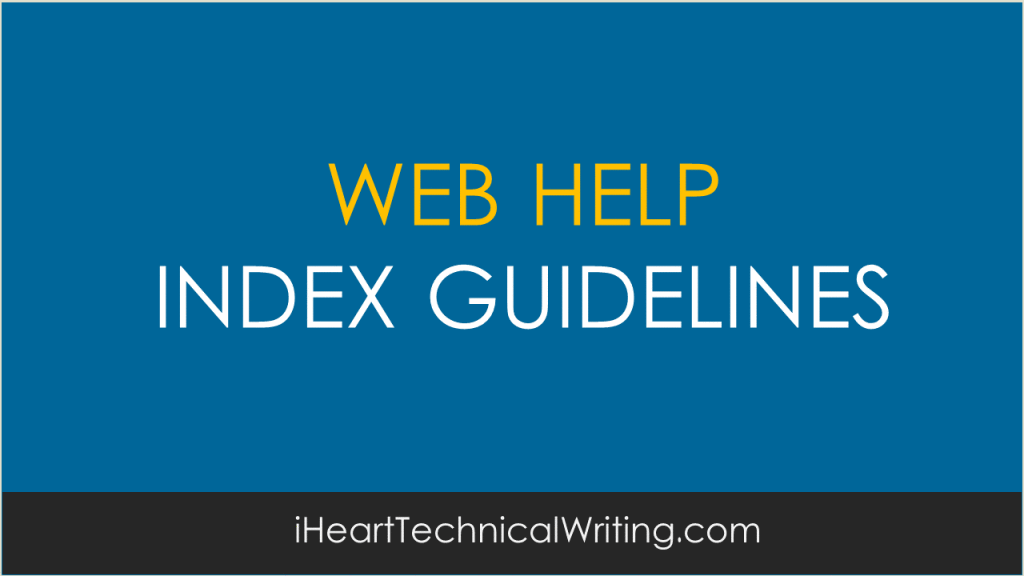 Do you provide an index for your online documents?
I'm not sure if today's customers actually want an index. Maybe they prefer to search.
Of course, not everyone agrees with me.
Lori Lathrop, author of An Indexer's Guide to the Internet, helps firms index their technical publications for software, manufacturing, and science.
She highlights four points when indexing documentation:
Document Type — product documentation, user guide, operations manual, etc.
Terminology — industry-specific, product-specific, and author-specific.
Audience characteristics — background, education, current skills, familiarity with your product or competitive products.
Audience objectives — needed skills, tasks to be performed.
A nice set of guidelines to get us started.
But what about if you're moving your documents online.
Do you still need to index the content?
Does a good Search function replace the need for an index?
Indexing Online Help
The team at Adobe RoboHelp provides the following guidelines when creating an index for online help:
#1 Prioritize user needs first
Focuses on their tasks and way of thinking.
Consider their backgrounds and knowledge.
Use words and phrases they're likely to think of when looking for information.
Users can and do form impressions about the usefulness and value of a Help file based on their experience with the index – and in this case, perception is reality.
If they can't locate information in the index, users may doubt whether or not the information exists in the Help file. If users are consistently taken to the wrong topics or to unexpected topics, they may doubt the accuracy of the Help file.
#2 Index the most important words
Include only those words and phrases your users are most likely to look up.
You don't have to index every word or phrase – like "About" or "Working with."
For ideas on good index entries, look at the features and content of your Help system – topic titles, headings, tables, examples, and so on.
Include terms commonly used by both beginners and experts.
#3 Provide multiple ways to access the same information
As user may not be familiar with the terms and concepts used in your Help system, provide synonyms and alternate index entries.
Include verbs, noun phrases, and synonyms to reach the widest range of users.
Index your competitors' terms, too – users may not know the name of the feature in your Help system, but they might know what it's called in your competitors system.
#4 Use consistent access routes
Use consistent phrasing throughout the index.
Include inverted terms and headings – what the command is as well as what the command does.
This approach helps users find information regardless of whether they're looking for the command or the action the command accomplishes. (For example, Printing:Landscape, Landscape:Printing.)
#5 Provide enough detail for users to choose
Provide enough description with your index entries so users can determine which path to choose.
Users should be able to tell the difference between index entries that lead them to conceptual overviews and entries that lead them to tasks.
I'm still in two minds about creating an index. What do you think? Is providing an index a thing of the past? Do users prefer a search engine to an index instead?